1 Minute Bible Study
Posted on December 12, 2012
I'll try to keep this brief. I have been praying a lot about what teenagers need spiritually & what I can do to help that. And after talking to other youth workers I have found that teenagers just don't know the Bible. they don't understand it, study it, or read it. And after praying over this issue God showed me a devotional book that I think will help solve the problem. It's called the 1 Minute Bible for Students. The idea is that everyday you spend 1 minute reading a couple verses, and a quick devo that goes along with it as well as a prayer or something else. The concept is that can you spare just one minute with God? And it's ok if you miss a couple of days that means it'll take you 3 minutes to catch up.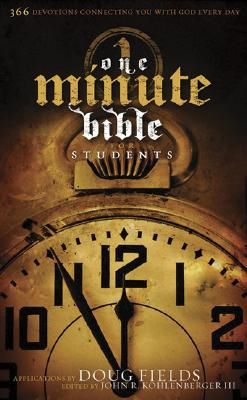 So I am starting this with anyone who is interested in starting a habit of spending time with God on a daily basis.  All you need to do is get the book by clicking here.  you can get the paperback or the Kindle version and read it on your Kindle or iPhone, or Android, or iPod touch, or tablet.  If you want to save on shipping talk to me (via email, facebook, twitter, or in person) and I can do a mass order for you.  I am going to start this January 1st but if your late it won't take you long to get caught up.  I will also be hosting weekly meetings too. both in person at the Midland Center & online via Google+ Hangout.  It'll be a way to keep us accountable & dig a little deeper into what we are reading and studying.
If your interested please contact me by email: tfclumpy@gmail.com and any of the links on the left.  this is not only for Midland people but anyone who wants to have a better relationship with God.
God bless,
Lumpy
Categories: Uncategorized
---
Leave a Reply